Our fits
Benevento trouser cuts and styles
Designing the pants, we took a couple of factors into consideration. Adjusting the style to the men's shape, applying the rules of classic elegance, and meeting our customer's needs. 
We decided to create two basic fits, Cesare and Barnaba, which has respectively slim and regular tone to it. These fits are the base that we work on when we start to draw the trousers on the fabric. The fit has its measurements and each  fit has its own which determines the fit. 
When making the trousers we choose the base, the core is the fit and then we add details like the waistband style or if we add side adjusters. 
When we are describing the style, you will find that we make Gurkha trousers, double pleated trousers, flat front trousers, sartorial two button closure waistband, we add belt loops or side adjusters.
Everytime you look for trousers, you choose the style or/and the fit, then please do check the measurements in our size chart.
Barnaba fit - classic cut trousers
This is our core fit that we are known for, Barnaba is our classic regular cut trousers. Barnaba fit is wider in the seat and thigh with a leg that stays straight to the knee and gently tapered to the bottom. Creates silhouette with clean drape, high rise which makes the legs looks longer, altogether the fit significantly  improves the silhouette looks by giving it this unique classic touch to it.
Barnaba fit has its own specific measurements that you find in our size chart, we do Barnaba fit with different styles, where there can be single or double pleated front, reverse or forward pleats, the waist can be made with classic suit waistband or sartorial wide two button closure, or we can add Gurkha waistband.
Barnaba II  – classic style trousers, regular base with gently tapered leg and high rise
To find the differences in the measurements between the cuts always check the size chart. Barnaba II is our bestseller around our classic menswear enthusiasts. We added even more space around hips, the rise is a bit higher and this fit is usually used in the double pleated trousers with side adjusters and the gurkha pants.  Clean straight drape is presented with gentle tapered leg.  
We recommend 5 cm cuffs with Barnaba II fit, which can be made by us when you choose the customisation link below the sizing.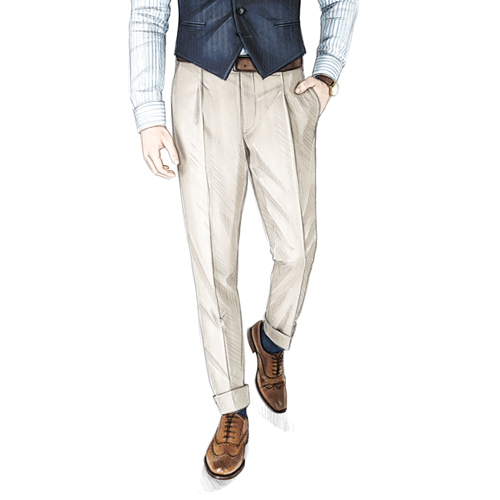 Cesare fit - standard slim trousers
To find the differences in the measurements between the cuts always check our size chart.
Cesare fit has slimmer leg and lower waist, it is made for most silhouettes. We make trousers in Cesare fit with flat front. Also here the measurements are the key to find how it will fit you, and there can be details added like belt loops or side adjusters that doesn't make any influence on the fit, but the style of it. 
We recommend simple, plain bottom here without cuffs.